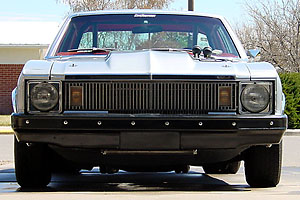 Special Thanks Goes To

Lynn Byers:
Dad has helped me in so many ways. I feel lucky to have a father who takes a great interest in the car and myself. Without his help I would only have half the car I have today. I just wanted to say Thanks Dad, I appreciate everything.

Lambert Bennettt:
A true master technician, Lambert aided me in the engine install and fabrication. Thank you Lambert.

Ed Sansing:
Ed is a family friend, machinist, and welder. He helped in the installation of the intercooler, gas sump, and Spall fans. The intercooler required alot of custom welding, fitting and fabrication and with Ed's help the install was a breeze. Thank you Ed.

Danielle Haney:
Danielle built my website and designed the 502 graphics. She is a true computer wiz and if you ever need a website built I recommend Reptile Webdesign. The work is very professional. Thank you Danielle.

Nick Devilbis:
Nick has been a great help with getting the suspension alighned and setup. He also clearanced the fenders for the slicks. Nick will be welding up the custom intercooler piping when we get all the pieces. He is the best welder and fabricator I have known!

John Byers
My uncle John drove all the way up from Los Cruces to help get the EFI straightened out. With his help we went from a car that would not even start, to one that ran decent enough to drive around town! A great many thanks for your help and knowledge!