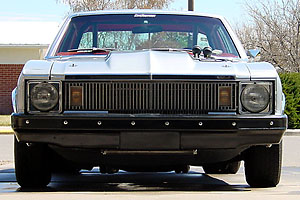 Nova 502 S/C

The site is really comming along! Go ahead and browse through the site: check this bad boy out! Please sign the guestbook too while your here and tell us what you think of the Nova and the site.

05/30/01:
Updated website photos to reflect newer modifications, including the
'find the mods' image on the modifications page.
Updated gallery with totally new pictures that load much much faster!
Updated my page that gives special thanks to those who have helped along the way.
The history has finally been added to! If you havnt read it, do it now, as it is a must read.
For those who have read it, you can get to the new sections here

03/13/01:
Updated Modifications and gallery to reflect recent changes to EFI

10/17/00:
Finally! Pictures of the Speed-pro efi and D3-M on the car. You can see them here.
Want to see how a 1200br compares in size to the D3-M? Just click here!

03/06/00:
Pictures of the new Monocoque wheels and Hoosier slicks. The old combo was a 15x8.5 Ultra with 28x10" slicks. This got a healthy 10" patch of rubber to the ground. The new combo runs a 15x12" rim with 29x11.50 slicks. This puts a monsterous 13.5" of rubber to the ground!! Take a look at the two next to each other here! A picture of the rim can be found here or in the mods list.

02/13/00:
ATI strikes again! Read all about Aaron's 90 TA here!

02/03/00:
New pictures of the installed ladder bars, minitub and frame rails
in the modifications section.
New pictures of the car lowered 4" in the rear and 2" in the front with the new
MT's out back and the ladder bar suspension.
Links to other disapointed ATI owners comming soon!

11/14/99:
More ATI Procharger owners come forth! Read about Julio Don's experience here.

11/03/99:
The Drama continues with ATI Procharger! Read about it here.

10/03/99:
No more guessing! We have found the problem to our less than
expected performance. Read about it here.




Website by Reptile Webdesign
© 1999